What are Compression seal Fittings?
What Is a Sealing Gland?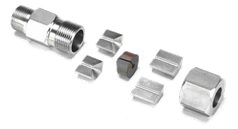 A Sealing gland seals an element such as probes, wire, conductors, pipe, tube, and fibre optic cable. When the mentioned element must pass through a pressure or environmental boundary. A sealing gland severs numerous purposes such as restraining the element from moving from a pressure delta. Also prohibits the leakage of gas/liquid media along the element and in some cases, it electrically isolates the element from the mounting devise.
Sealing gland fittings are normally used in pressure vessels, autoclaves, holding tanks, pipelines, furnaces or in any application where wires or sensors need to pass from internal to external of a vessel or wall where pressure differentials or hazardous environments cause concern.
Who Pyrosales work with for our compression seal fittings?
Pyrosales are in partnership with Conax Technology to bring our custom designed and manufactured seal fittings to compliment your temperature measurement device and ensure accurate and safe temperature measurement.
What types of sealing gland compression fittings are there?

A single sealing gland assembly may seal on single or multiple elements. Sealing glands designed to seal single elements consist of a body, cap, sealant, and follower. When sealing on multiple elements, gland designs also include a seat and an anti-rotation pin to prevent wires/conductors from twisting and shearing. One or more insulators may also be included when electrical isolation is required.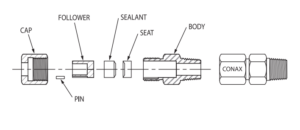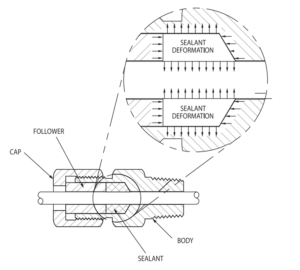 In soft sealant technology, the element to be sealed passes through the bores in the sealing assembly components. When the cap is torqued to the recommended value, the torque on the cap translates an axial force on the follower. This force compresses the sealant contained within the body housing so that the sealant conforms to the element, creating a seal. The elastic nature of a sealant allows it to flow into any voids between the sealant and the element.
The tension in the torqued body acts as a spring to maintain compression on the element. The static friction force between the sealant and the element restrains the element from moving under pressure.
What are the styles of Soft Sealant Gland?

Pyrosales through our partnership with Conax offers numerous styles of sealing glands ranging from single bore glands to multi-hole glands that can accommodate hundreds of wires. In partnership we recommend routinely, a single gland 1 to 18 conductors ranging from 24 AWG to 1000 MCM (1″ diameter) to handle a voltage range from the millivolt level to 8000 volts. From 1 to 63 probes, ranging from 0.020″ to 1.250″ diameter, which is routinely sealed in a single unit.
What is a Metal-to-Metal Sealing Gland?
Metal-to-Metal sealing gland offers one gland style that features a stainless-steel ferrule instead of a soft sealant. The MK gland uses compression to deform the

ferrule against the wire/probe without cutting the sheath surface. A slight deformation of the wire/probe surface occur; however, MK glands are freely adjustable until first tightened. After that, they may be reopened, and resealed at that fixed immersion depth. The MK gland is designed to form the seal deep within the gland to stand up to high vibration applications.
What are the Advantages and Disadvantages of using Soft Sealant Compression Fittings?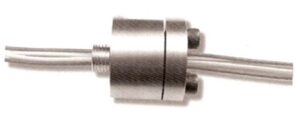 In an epoxy seal (a blend of acrylic and epoxy resins), the filled containment's are often subject to cyclical temperature excursions defined by the process in which is used. The epoxy material, wire/probe and housing have different coefficients of expansion. Rapid excursions in temperature cracks and voids around the wires and between the housing and epoxy. With a soft sealant fitting, the continuous tension in the torqued body acts like a spring to maintain compression on the sealant and maintains a positive seal throughout the temperature cycle.
Soft sealant gland fittings allow replacement and adjustments of the sealed element. This not possible with other gland technologies such as epoxy and glass-to-metal sealing.
The disadvantage to using Conax sealing assemblies is they are manufactured to exacting standards. The critical interaction of precision parts as designed is essential to reliability and safety. Using parts of assemblies by other manufactures may not result in the same outcome.
There are disadvantages such as not adhering to advise temperature ranges and position of the fitting. The element of surface finish can affect the seals integrity. Inadequate lubrication of the sealing gland threads can also result in compromised effect of the fitting. The sizing of the selected fitting can cause issue for the required optimum seal gland fitting performance, great care must be taken in the selection of the correct size.
How do you Measure Vacuum and Leaks?
Pyrosales are happy with how Conax rate Leak and Vacuum. Conax provide two statistics to measure the ability of their sealing assemblies to seal against gas and liquids in pressure/vacuum environments.
The first is Helium Leak Rate, what is this?
Helium Leak Rate represents the rate of flow through a leak of a specified gas at a specified pressure on the inlet and outlet sides. Conax Technologies uses a dynamic leak test. In this test, the interior is evacuated while a tracer gas (Helium) is applied to the exterior. Any attempt to draw in the tracer gas can be detected with a leak detector. Our Viton, Neoprene, PTFE and Grafoil sealants all have Helium Leak Ratings of 1 x 10-6 scc/sec (mbar l/s) He at 68˚ F (20˚ C) or better with 1 atm. Supplied
The second Vacuum Rating, what is this?
Vacuum Rating represents the ability of a unit to achieve and maintain a perfect vacuum (e.g., zero absolute pressure). Vacuum is primarily measured by its absolute pressure, is typically expressed in torr (1/760 atm) and is directly indicative of the amount of matter in a defined volume.
What are Conax sealing gland compression fittings made of?
Conax Technologies standard gland bodies are constructed from303SST for thread mounted glands or 316LSST for weld neck mounts. Caps, followers, and seats

are constructed from 303SST. Many other materials of construction are available. Some applications may require special construction materials to withstand corrosion or physical attack by the process liquid or gas. When selecting the appropriate material for your application, keep in mind that only the wetted parts (normally the body contact the process media. Caps and followers can usually be constructed of standard materials, although any part of the assembly may be constructed from the material of your choice. Commonly requested materials include:
Hastelloy® C276 – Excellent in chlorine gas, hypochlorite, and chlorine dioxide solutions. Also used in ferric and cupric chlorides, hot contaminated mineral acids, solvents, chlorine, and chlorine-contaminated media (inorganic and organic), dry chlorine, formic and acetic acids, acetic anhydride,
sea water and brine solutions.
Monel® 405 – Used in steel pickling processes, desalination processes and heat ex-changers to resist corrosion by chlorinated hydrocarbons; in re-boilers and preheaters used in the production of hydrogen to resist pitting by CO2, in oil wellhead hardware pumps and valves, and in offshore equipment to resist mussel build-up and marine foul-up.
Inconel® – A nickel-chromium alloy with good oxidation resistance at higher temperatures in the range of 2000˚ F (1093˚ C); very good in corrosive environments, neutral and alkaline salt solutions, and steam; virtually immune to chlorine ion stress corrosion cracking. Typical applications include chemical and food processing, heat treating, phenol condensers, soap manufacture, vegetable and fatty acid vessels, production of caustic alkalis in the presence of sulphur, production of chlorinated and fluorinated hydrocarbons, and reactor vessel components in boiling water nuclear reactors.
Titanium – Provides superior strength-to-weight ratio and continuous service up to 1000˚ F (538˚ C), bridging the gap between aluminium and steel. Immune to corrosive attack by salt water or marine atmospheres; exhibits exceptional resistance to a broad range of acids, alkalis, corrosive gases, chemicals, and organic media. Superior resistance to erosion, cavitation or impingement attack makes titanium ideal for use in marine pumps and piping, high-velocity heat ex-changers, chemical processing, and oil well operations.
What is the best selection of Sealant Materials for compression seal fittings?
Pyrosales work in partnership with Conax and take their advice on sealant materials. Conax Technologies has examined many sealant materials over the years. The standard sealants presented below represent the materials that have provided consistent, reliable, and predictable performance in the widest range of applications. Other sealant materials are available and may be preferable for certain applications. If you are interested in a sealant material not listed here, please consult Pyrosales sales engineer for information on Conax test results and recommendations. As a rule, among standard sealants, Viton, Neoprene and PTFE sealants may be reused when the gland is loosened and re-torqued. Grafoil sealants offer limited re-usability. Due to its composition, Lava is not reusable.
To know more about sealants read the attached. Standard Sealants Special Material Sealants
Pyrosales has extensive knowledge and experience in temperature management and process control. We provide advice, design, repair, and fabrication to our clients on a wide range of industries, uses, and capabilities of temperature management.
For More Information Contact Us