Commercial Building
Pyrosales frequently work with commercial developers, engineers and electricians to provide effective protection of electrical wiring throughout a building, especially from potential fire damage. Pyro MI provides the ideal solution to many difficult and demanding wiring installations, making a permanent and dependable wiring cable system for medium voltage applications.
MICC Mineral-Insulated (MI) Cable
High-rise buildings, hospitals, airports, and tunnels are locations where fires can be costly and deadly if the emergency systems in place do not operate properly. MICC MI cables will operate for at least 2 hours under fire conditions, allowing the continued operation of life safety equipment and the safe evacuation of the facility. The various MICC MI cable product lines can withstand temperatures from as high as 670°C up to 1200°C, allowing the continued use of electrical backup systems, exit signs and essential electrical services to remain uninterrupted in the most dire fire-related situations.
Typical locations requiring emergency power feeders include:
High-rise buildings
Hospitals and other institutions
Historic buildings
Tunnels and subways
Airports, stadiums, hotels, banks, etc.
MICC cables are used for all critical life safety circuits including the fire pumps, fire alarm systems, smoke extraction fans, pressurisation fans, and power for the firefighters' elevator.
MICC uses only inorganic materials (copper, Alloy 825, nickel and magnesium oxide) to allow for zero smoke generation, zero fuel contribution and zero flame spread. The construction of pyro cable makes it mechanically superior to soft skin cables. This provides a rugged and durable cable that can withstand impact damage and is made to last.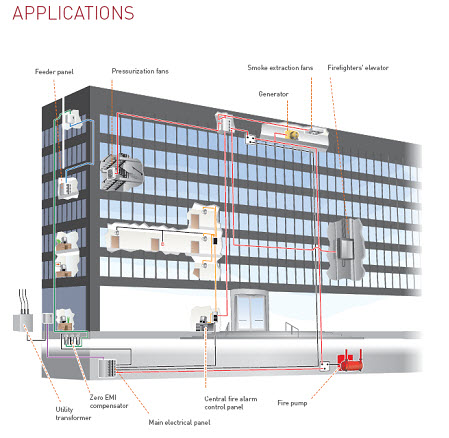 Infrared Thermal Imaging
One of the most common uses of infrared thermal imaging devices is for fault finding in large structures and apparatus. Electricians and maintenance workers frequently use thermal imaging to find hidden problems, conduct damage assessment, spot electrical faults, or find where heat loss is occurring from poor insulation or cracks.
One device that is proved popular among our customers is the Testo range of infrared thermal imaging devices. The various handheld models greatly assist in the preventative maintenance of any commercial building. All cameras are supplied with software to help analyse, document and report findings.
For more information on properly outfitting and assessing a commercial building for maximum efficiency, please contact us online or call the nearest Pyrosales office.