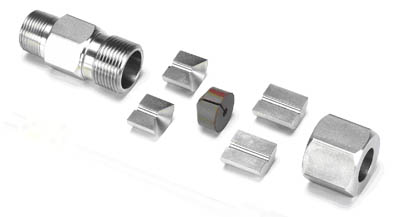 We partner with Conax Technology to bring you custom designed and manufactured seal fittings to compliment your temperature measurement device and ensure accurate and safe temperature measurement.
A customer from the solar power industry presented a challenge where they needed to introduce thermocouple wires through high vacuum boundary in a PV thin film coating application. Additionally they were aiming to reduce electrical noise in wiring on the exterior of the process chamber. The solution provided was a custom designed multi-hole compression seal fitting/flange which allowed for easy replacement and reduced costs of production. The fitting/flange assembly was used to seal on the wires then to the customer's process chamber. A shield was also added over the group of wires from the fitting to termination box. Within the termination box, a drain wire was attached to the shielding to allow for correct grounding.
The customised solution offers the option to rebuild the fitting with new wires as the wires are damaged from use, resulting in reduced costs. The issue of excess external wiring noise was also overcome with this solution.
Pyrosales provides a large range of Conax Technologies pressure and vacuum seal fitting assemblies to carry sensors, probes, electrode, wires and other elements for varied applications suitable for most industries.