Rare metal thermocouples are used in applications where the temperatures exceed the working range of base metal thermocouples, i.e. 0‐1300°C, or where greater accuracy is required such as in standard thermocouples. Wire size is typically 0.5mm diameter.


STANDARD ASSEMBLIES
IS G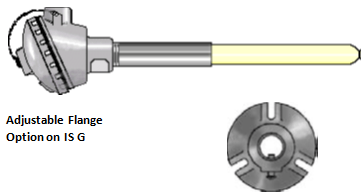 IS J
IS K
IS L

SPECIAL PROTECTION SHEATHS

HEXOLOY® / SYALON®

METAL CERAMIC

SILICON CARBIDE

RECRYSTALLISED ALUMINA
PROTECTION SHEATHS
Rare Metal Thermocouples require protection sheaths to avoid contamination from the process. Details of these are shown in the table below:


Note: LT‐1, Sillimanite, Silicon Carbide, Hexoloy® and Syalon® require an inner, impervious sheath. Specific details of each of the above are available on request.

The above only cover the most commonly supplied thermocouples. We specialise in made‐to‐order units, and will quote against your specifications.
Learn more on the Installation of rare metal ceramic sheath thermocouples here.
Hexoloy® Registered trade mark of Carborundum Company.
Syalon® Registered trade mark of Cookson.