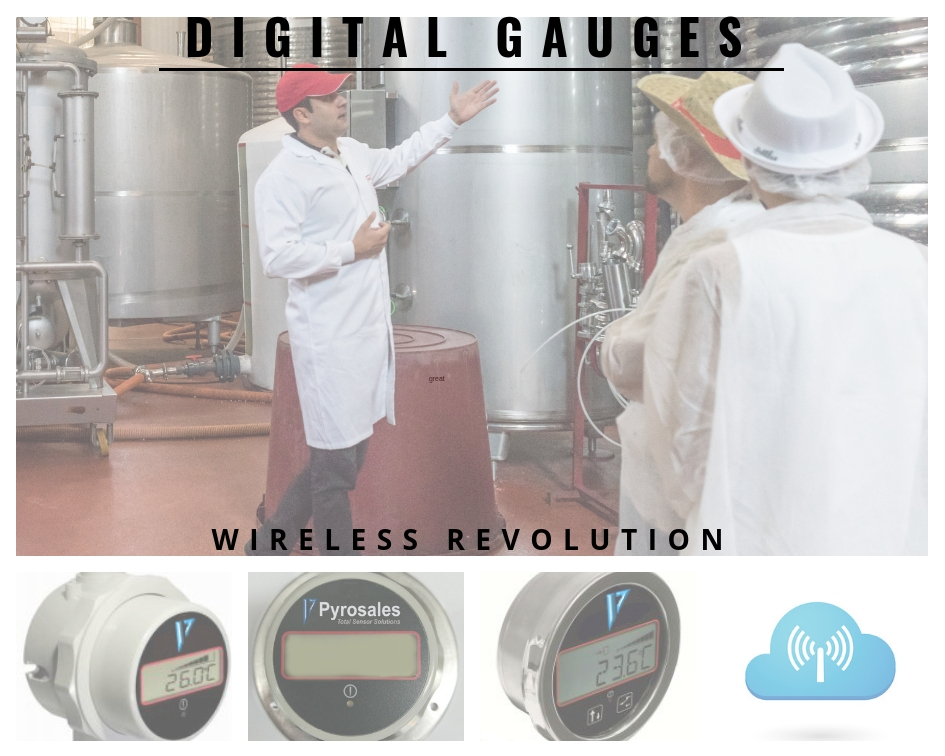 Pyrosales new range of Wireless Digital Thermometers
Introducing Pyrosale's new range of digital gauge thermometers. Our gauges offer a much more innovative range of features and are superior in technology. They can also be ordered online here.
We have three thermometers in this range, including a plastic housing, a stainless steel housing and a stainless steel housing with a mounting panel.
The main benefits that come standard with this range include:
Universal RTD/Thermocouple input
BATTERY powered
USB and NFC useability – for easy transfer of data
Alarm/Relay – which can show battery status
User set display messaging
5000 point data logging with time stamp
To view the range in more detail/ order online/ download the datasheet, click here.
Being a thermometer with an in-built data logging function, this range is putting efficiency at the forefront of its concept. The information produced can then be downloaded via an Android app through USB or NFC (a wireless capability).
These digital probe thermometers do not come with a standard probe, as we are aware that there are various requirements dependent on application. Probes are fully customisable and manufactured to your specifications.
Suitable applications/industries:
Beverages & Food
Ovens / Furnaces
Chemicals / Scientific / Laboratories
Fridges / Freezers
Machine and Plant Engineering
Boiler Construction
Large Gear Construction
Large Compressor Construction
Digital Display with IP67 Plastic Housing                                                            SKU: DM-650TMSCH4
Digital Display with Stainless Steel Housing                                                     SKU: DM-650TMSS
Digital Display with Stainless Steel Housing and Wall Mounting Panel  SKU: DM-650TMSSF
For any questions, information or enquiries, please contact us or call 1300 737 976.