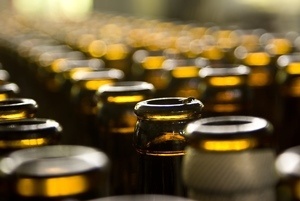 Pyrosales is the main supplier of temperature sensors for manufacturers of container glass in Australia. Amcor Ltd and Owens-Illinois Inc. are the two major manufactures of glass bottles in Australia and have a long association with Pyrosales.
Glass manufacturing requires high-temperature sensors. Furnaces used to make glass work at up to 1575°C, requiring platinum-based thermocouples. Thermocouples are used in measuring the furnace atmosphere temperature, the furnace glass temperature, and the temperature of the glass as it flows through the fore hearth, where it is conditioned to efficiently make glass bottles.
The crown thermocouples typically measure the highest temperature, and depending on the type of glass and temperatures required, will use type B thermocouples with recrystallised alumina sheaths.
A specialised platinum sheath will need to be used for measuring glass temperatures, as the glass is both abrasive and corrosive. The temperature measurement is also critical in ensuring the efficient manufacture of the glass bottles, and there are sophisticated controls in place, requiring tri-level and bi-level temperature measurement.
Pyrosales has extensive experience supplying thermocouples to the glass industry and can custom-design and manufacture temperature the specialised sensors required.
Find more information here.