For many years, the main device for controlling power was to use a contactor. This has gradually changed, and there has been wide acceptance of the use of solid state devices, whether they are solid state relays or power controllers.
Since its introduction, the SSR technology has gained acceptance in many areas that had previously been the sole domain of the EMR or the Contactor. The major growth areas have come from Industrial Process Control applications; particularly heat/cool temperature control, motors, lamps, solenoids, valves and transformers. The list of applications for the SSR is almost limitless.
The following are typical examples of SSR applications: industrial automation, electronic appliances, industrial appliances, packaging machines, tooling machines, manufacturing equipment, food equipment, security systems, industrial lighting, fire and security systems, dispensing machines, production equipment, on-board power control, traffic control, instrumentation systems, vending machines, test systems, office machines, medical equipment, display lighting, elevator control, metrology equipment, and entertainment lighting.
Pyrosales offers both standard SSRs that can be attached to a heatsink, or a range of slimline SSRs that have an integral heatsink, and can be din-rail mounted where space is an issue.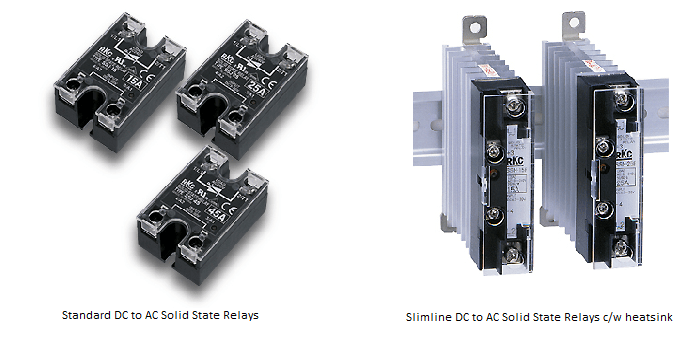 Advantages of using SSRs
When used correctly in the intended application, the SSR provides many of the characteristics that are often difficult to find in the EMR: a high degree of reliability, long service life, significantly reduced electromagnetic interference, fast response, and high vibration resistance are significant benefits of the SSR. The SSR has no moving parts to wear out or arcing contacts to deteriorate, which are often the primary cause of failure with an EMR.
Long life (reliability) > 109 operations
Zero voltage turn on, low EMI / RFI
Shock and vibration resistant
Random turn-on, proportional control
No contact bounce
Arcless switching
No acoustical noise
Microprocessor compatible
Fast response
No moving parts
SELECTION GUIDE FOR STANDARD SSR
Example:                 SSR – 40 D A – H
                                    1      2  3  4    5
  1       PRODUCT
SSR = Solid State Relay
2       OUTPUT CURRENT
05 = 5A
10 = 10A
25 = 25A
40 = 40A
3       INPUT VOLTAGE
D = DC 3 ~ 32V
A = AC 80 ~ 250V
V = Trimmer Pot
4       OUTPUT VOLTAGE
D = DC 5 ~ 60V
A = AC 24 ~ 380V or AC 90 ~ 480V
5       OUTPUT VOLTAGE RANGE
H = High Voltage Type < AC 90 ~ 480V >
No Value = Standard Type < AC 24 ~ 380V >
SSR SERIES – DC TO AC SOLID STATE RELAY
Specification
Type

Terminal Type

PCB Type
Model

SSR – 10DA

SSR – 25DA

SSR – 40DA

SSR-25DA-H

SSR-40DA-H

SSR-P03DA

Rated Load Current

10A

25A

40A

25A

40A

3A

Input Data
Operating Voltage

3 ~ 32VDC

Min. ON / OFF Voltage

ON > 2.4V , OFF < 1.0V

Trigger Current

7.5mA / 12V

Control Method

Zero Cross Trigger

Output Data

Operating Voltage

24 ~ 380VAC

90 ~ 480VAC

24 ~ 480VAC

Min. Black Voltage

600 VAC < Repetive >

Voltage Drop

1.6 V / 25 C

Max. Durated Current

135A

275A

410A

275A

410A

135A

Leakage Current

3.0mA

3.0mA

3.0mA

5.0mA

5.0mA

3.0mA

Response Time

ON < 10ms , OFF < 10ms

General Data

Dielectric Strength

Over 2.5KVAC / 1min

Isolation Strength

Over 50MΩ / 500VDC

Operating Temperature

-20 C ~ + 80 C

Housing Material

Intensive ABS

Weight

Appr. 105g

Appr. 15g

Connection Diagram
 
SSR SERIES – AC TO AC SOLID STATE RELAY
Specification
Type

Terminal Type

Model

SSR – 10AA

SSR – 25AA

SSR – 40AA

SSR-25AA-H

SSR-40AA-H

Rated Load Current

10A

25A

40A

25A

40A

Input Data
Operating Voltage

80 ~ 250VAC

Min. ON / OFF Voltage

ON > 45V , OFF < 35V

Trigger Current

5.0mA / 110VAC

Control Method

Zero Cross Trigger

Output Data

Operating Voltage

24   Ì´  380VAC

90   Ì´  480VAC

Min. Black Voltage

600 VAC < Repetive >

Voltage Drop

1.6 V / 25 C

Response Time

ON < 20ms , OFF < 20ms

Max. Durated Current

135A

275A

410A

275A

410A

Leakage Current

3.0mA

5.0mA

3.0mA

5.0mA

5.0mA

General Data

Dielectric Strength

Over 2.5KVAC / 1min

Isolation Strength

Over 50MΩ / 500VDC

Operating Temperature

-20 C ~+ 80 C

Housing Material

Intensive ABS

Weight

Appr. 110g

Connection Diagram
 
SSR SERIES – ADJUSTABLE SOLID STATE RELAY
Specification
Type

Terminal Type

Model

SSR – 10VA

SSR – 25VA

SSR – 40VA

Rated Load Current

10A

25A

40A

Input Data
Variable Resistance

Trimmer / 250kΩ to 110V , 500kΩ to 220V

Control Method

Phase Control

Output Data

Operating Voltage

24 ~ 380VAC

Min. Black Voltage

600 VAC < Repetive >

Voltage Drop

1.6 V / 25 C

Max. Durated Current

135A

275A

410A

Leakage Current

5.0mA

5.0mA

5.0mA

General Data

Dielectric Strength

Over 2.5KVAC / 1min

Isolation Strength

Over 50MΩ / 500VDC

Operating Temperature

-20 C ~+ 80 C

Housing Material

Intensive PBT

Weight

Appr. 105g

Connection Diagram
Adjustable SSR

VR : 250KVΩ/110VAC, 500KΩ/220VAC
Dimension < Heat Sink > 
Standard Type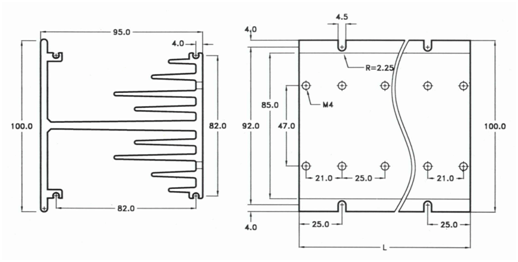 H Type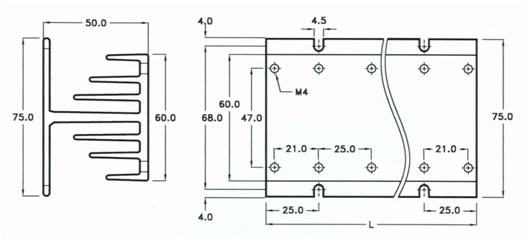 | | | | |
| --- | --- | --- | --- |
| MODEL | LENGTH (L) mm | CURRENT DURATION | PCS OF SSR |
| HS-50H | 50.0 | 10A MAX. | SINGLE |
| HS-100H | 100.0 | 25A MAX. | TWICE |
| HS-150H | 150.0 | 40A MAX. | THREE |
| HS-200H | 200.0 | – | FOUR |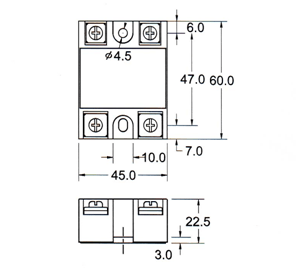 Dimensions for single phase solid state relays
Characteristics Curves
Characteristics Curves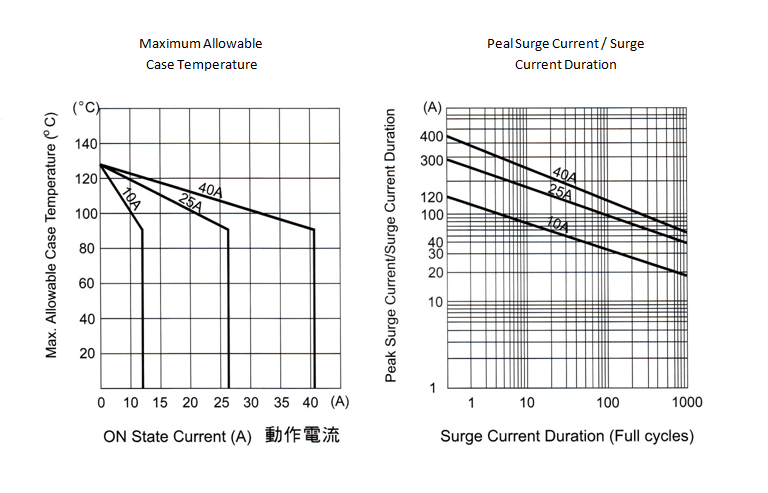 Slimline Din-Rail Mount SSR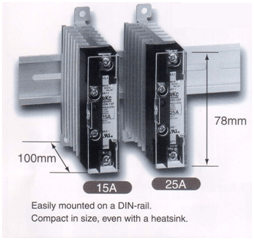 Specifications
Maximum Load Current

15A AC, 25A AC

Minimum Load Current

100mA AC

Peak 1 Cycle Surge Current

15A AC : 150A (50Hz)
25A AC : 250A (50Hz)

Input Signal

Voltage pulse input (DC), LOW (OFF): 0V HIGH (ON): 4.5 to 30V

Input Impedance

450 to 3.0kΩ (Built-in constant current circuit 10mA)

Response Time

0.5 cycle or less

Input Protection

Protection of reverse polarity connection

Output Protection

CR protection circuit and Varistor

Output ON Voltage Drop

Less than 1.0V (200V AC)

Load Voltage

50 to 264V AC

Insulation Resistance

More than 100MΩ (500V DC)

Dielectric Strength

2500V AC (one minute)

OFF State Leakage Current

Less than 9mA (240V AC)

Induration Method

Phototriac

Net Weight

Approx. 220g
Temperature characteristics of Load Current