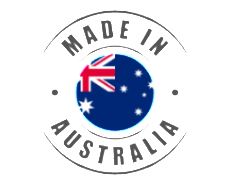 Research completed by Roy Morgan* on Australian-made purchasing habits, show that Aussie consumers still prefer to buy Australian made. Despite the China free trade agreement resulting in cheaper prices of items manufactured in China, 89% of Australian Consumers surveyed say they would prefer to buy a product made here.
In an online survey conducted with businesses, the results show a quarter (26.2%) of businesses surveyed have a policy in place to purchase items manufactured in Australia. Almost half (48.2%) indicated they prefer to purchase Australian-made items.
This is motivating news for Australian manufacturers. Buying items made in Australia helps local workers maintain employment and helps keep trade skills, specialised equipment and inventions stay in Australia. It creates better opportunities for the next generation of workers and also has a positive impact on the economy.
Why else should you consider choosing Australian manufactured products?
Quality – Australian-made items must adhere to strict quality standards. When you buy Aussie made, you know you are getting a high-quality item.
Warranties – protection provided by guarantees that protect the consumer
Support good working conditions – when you buy Australian made you know that the workers are receiving a fair wage and are in a secure and safe working environment.
Environmentally friendly – manufactures must follow strict environmental protection policies
Pyrosales has been proudly manufacturing items in Australia for over 40 years. To find out more about our manufactured items, see our products.
Source:* Roy Morgan Single Source (Aust), October 2015-September 2016, n=14,416. Base: Australians 14+