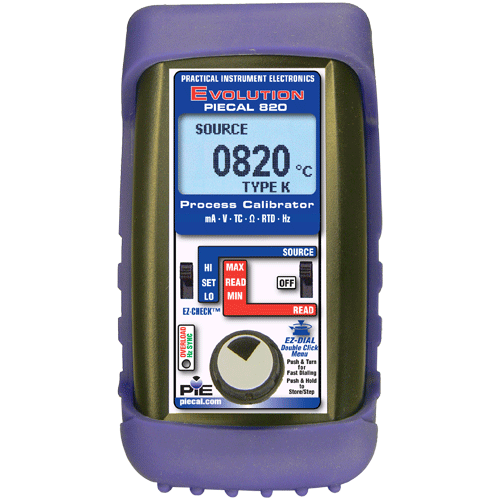 The PIECAL 820 packs the functionality of six, single-function calibrators into one handy unit that fits in the palm of your hand or in your pocket. Smaller and easier than other multifunction calibrators, the PIECAL 820 combines all milliamp loop functions and sources and reads both millivolts and DC Volts, 14 thermocouple types, 9 RTD curves, ohms, and process frequency signals. Troubleshooting connection problems is easy with the continuity checker.
The PIECAL 820 is all about ease of use. Designed with the technician in mind, the intuitive EZ-DIAL Double Click Menu makes it simpler to setup than other calibrators. There are no confusing menus or button-filled panels. All ranges have auto storing MIN/MAX readings and three output set points for instant recall. Advanced features include automatic detection of 2, 3, and 4 wire RTDs, plus configurable automatic stepping and ramping.
The strong and sturdy design includes a backlit display for use in dark environments, protective rubber boot, and a built-in stand. The PIECAL 820 is the best value multifunction calibrator, replacing six functions into the one pocket-sized unit.