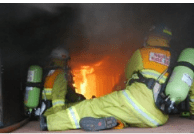 Type K thermocouples are the most common thermocouple that we provide to wide variety of customers. Its applications are many, from measuring the temperature in plastic manufacturing to steel works. Its universal applications and affordability make the Type K base metal thermocouple a popular choice.
We recently have supplied products to the NSW Rural Fire Service for use in a training exercise for their firefighting staff.
In order to provide practical training on fighting fires and fire safety, a structure resembling a building is made using 5 particle boards (2.4×1.8m). The structure is built within a 40ft shipping container to safely contain the fire during the training exercise. Type K thermocouples are set at roof, wall, shoulder, and floor level to read the temperature at different locations within the room. Temperatures range from 50- 60ËšC at floor level and between 200-800ËšC in the roof space.
For fire fighters to keep victims and themselves safe, it is imperative that there is no disruption to the thermal balance causing the heat and smoke to descend to the floor as this can result in loss of life. A process of small gas cools takes place, where the fire fighters spray small amounts of water, around 1 cup at a time, every 30 seconds or minute, depending on the ferocity of the fire, in order to maintain the thermal balance and reduce the heat in the over pressure region. A typical gas cool can reduce the temperature by 30-50°C. This enables higher visibility for the fire fighters down low allowing them to crawl around and rescue any victims.
The use of the thermocouples allows us to show fire-fighters how effective gas cooling is the over pressure region, whilst maintaining steady temperatures in the under pressure region, as they can have the opportunity of seeing the reduction of heat in the container by viewing the down loaded data. This data serves to reinforce the effectiveness of the techniques being taught.