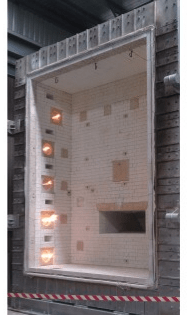 For over 10 years, Pyrosales has been supplying Exova Warringtonfire with high temperature thermocouples to accurately measure temperature in their high capacity fire resistance test furnace.
Exova Warringtonfire globally offers a comprehensive range of impartial fire safety services to an international market. From developing fire safety design strategies, through testing and certification of passive fire products, to inspection commissioning and certification of completed projects, Exova Warringtonfire provide services in all aspects of fire safety.
Exova Warringtonfire's state-of-the-art full scale, high capacity fire resistance test furnace is capable of testing horizontal and vertical constructions. Housed at Dandenong in Victoria, the NATA accredited laboratory, the test furnace complements and enhances the existing testing, fire engineering, certification and inspection services which are all internationally respected. Exova Warringtonfire tests to a wide range of Australian standards but can also test to American, British, European and international methods, giving you greater fire safety.
Typical test specimens include:
• wall, floor and ceiling systems
• service penetrations
• doors and windows
• smoke control curtains and dampers
• beams and columns
Fire resistance tests are crucial to determine the behaviour or performance of materials that are used in a variety of sectors and industries, such as construction, transport, marine and oil & gas. It is critical that organisations operating in these sectors ensure the integrity of the materials and construction systems they use.