When installing sensors in a hazardous area, there is a requirement to install a sensor that is suitable and approved for use in that hazardous area. There are two main methods used in Australia that conform to the applicable standards and are approved for use in those areas.
Intrinsically safe Ex 'ia'
An Intrinsically safe installation is one in which any spark or any thermal effect produced in the conditions specified in AS-NZS 60079.11-2002, which include normal operation and specified fault conditions, is not capable of causing ignition of a given explosive gas atmosphere.
In principle, an intrinsically safe apparatus does not require an enclosure, as the method of protection is embodied within the circuits themselves. It is generally accepted that a standard weatherproof enclosure is suitable.
Thermocouples and resistance thermometers are classified as simple apparatus when being assessed for use in an intrinsically safe circuit. An RTD is classified as a simple apparatus because it is a passive device. A thermocouple is so classified, as it is not able to produce enough energy to cause the ignition of any flammable atmosphere that may be present.
Where it is necessary that the simple apparatus maintains the integrity of the isolation from earth of the intrinsically safe circuit, it must capable of withstanding a 500VAC RMS test voltage to earth. This will only be applicable if the barrier or transmitter being used is non-isolated.

Explosion-proof (Ex 'd')
An Ex 'd' installation provides the type of protection for electrical equipment in which the enclosure will not suffer any damage if there is an internal explosion, usually from a flammable mixture that has penetrated the interior. In the event of an explosion occurring, the flame path to the outside atmosphere needs to be of sufficient length to ensure that the escaping gases cannot ignite the gases in the external atmosphere.

FLAMEPROOF SENSOR ASSEMBLIES
It is a requirement that a sensor installed in an Ex 'd' application needs to be approved for use in this area. The following assemblies are SAA approved for use in Ex 'd' installations.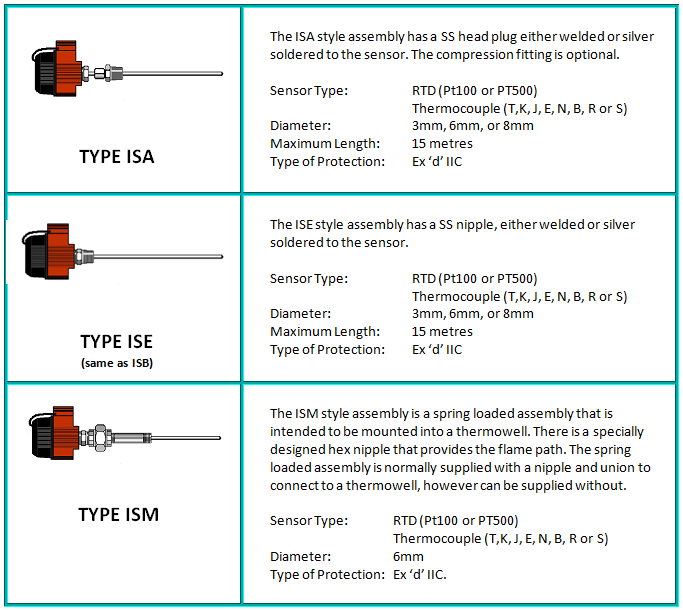 All assemblies can be supplied with 2, 3, 4, 6, or 8 way terminal blocks.
A range of Moore Industries transmitters are approved for use in these assemblies.
As a variation to this approval, a BH (large) head can be provided. This can be supplied with a solid or glass window head for local indication.