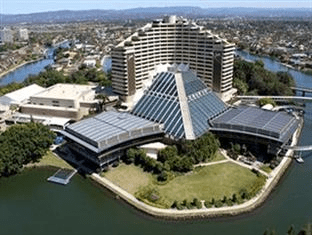 Pyrosales are involved in a major upgrade of Jupiters Hotel and Casino on the Gold Coast. Fire Survival Cable (also known as Pyro cable or Pyro MI) is a sensible choice for any major infrastructure project as it provides superior fire survival abilities. The cable continues to carry current in extreme temperatures, in excess of 1000ºC.
The use of Fire survival cable allows the added protection of a true 'fire survival' solution with the added benefit of being able to use the Pyro Earth Sheath Return system, that can substantially reduce the wiring costs.
The ESR Wiring System is defined as a system where one or more insulated conductors are enclosed by a copper sheath, which is used as a combined neutral and earth return conductor.
Pyrosales frequently work with commercial developers, engineers and electricians to provide effective protection of electrical wiring throughout a building, especially from potential fire damage. Pyro MI provides the ideal solution to many difficult and demanding wiring installations, making a permanent and dependable wiring cable system for low and medium voltage applications.
Pyro cable uses only inorganic materials (copper, Alloy 825, nickel and magnesium oxide) which allow zero smoke generation, zero fuel contribution and zero flame spread. The construction of pyro cable makes it mechanically superior to soft skin cables. This provides a rugged and durable cable that can withstand impact damage and is made to last.
The majority of existing low voltage cabling at the Casino is Fire survival cable. The cable will supply essential services, such as lighting, emergency lighting, communications and general power, as well as door security, utilising and extending the installed ESR wiring system.
*Pyrosales now supply MICC cables manufactured by TRM. All MICC cable variations are approved for use as per ASNZS3013 52W, as well as a fully tested, fire-rated joint. This is the only fire survival cable that has passed this testing process.