Generally, standard electrical cables are easily damaged and have not been designed specifically to stand firm in the case of fires, resulting in a drop in safety levels. However, fire survival cables have been specifically designed and manufactured to withstand fire and smoke for approximately 3 hours, or sometimes longer depending on the cable type. This provides more than enough time for safe fire evacuation, with the average time being 25 minutes per floor.
Mineral Insulated Cable is renowned for being the ideal fire survival cable. It is supplied in two types including:
Copper sheath: this can survive 3+ hours at temperatures of 1050°C. This is tested to the requirements of ASNZS3013:2005 category WS52W, allowing 2 hours at temperatures up to 1050°C.
Alloy 825 sheath: this can survive 2+ hours at temperatures of 1200°C
Fire survival cables have many advantages including:
Inorganic structure, which means there is no fuel to burn
Without fuel to burn, there are no toxic emissions and no smoke generated from the cables
Inorganic materials last a lifetime
It has no combustion and no heat release
It is well known for its properties in being rodent proof
It is self monitoring which means that it will not set off alarms due to undetected damage upon installation
It has passed real life furnace testing exceeding 1000°C. This is the only fire survival cable that has passed the testing process approved for use as per ASNZS3013 WS52W, as well as a fully tested, fire-rated joint.
The main applications that are well suited to use fire survival cables include:
All buildings, especially those containing more than 7 floors
Airports
Hospitals
Tunnels
Nuclear Power Stations
Shopping Centres
Car Parks, including underground car parks
Schools
Prisons
They are also well suited, but not limited to be used for:
Firemen's lifts and general lifts
Smoke alarms
Fire alarms
Emergency lighting
Ventilation systems
Emergency pumps
The table below shows the features of the Copper and Alloy sheath cable: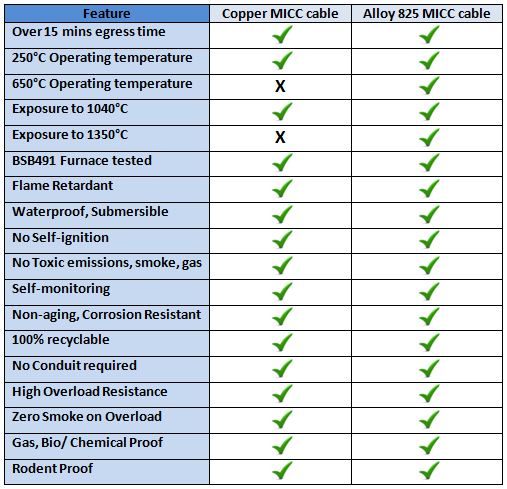 MICC cables have zero smoke emissions. This is crucial and extremely beneficial in extending evacuation times, hence saving more lives. The cables do not take any oxygen as well as not emitting any toxic gasses, which will in turn, save more lives.
For more information, contact us, or call 1300 737 976.