The new revolution in Data Logging has emerged, and is available from Pyrosales. We would like to introduce Wave Industries 'Hawk – Eye 800' Data Logger Series.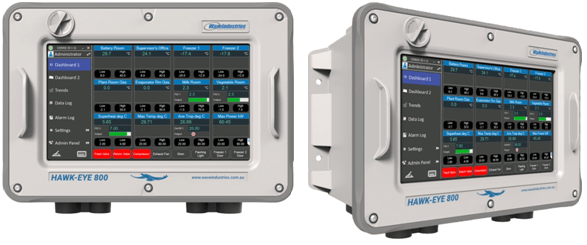 This cost effective and time saving equipment has been designed in three types to suit differing requirements of users.
Bronze Model: This data logger is for smaller applications which allows the user to monitor, record, report and make use of the alarms.
Silver Model: This is the same as the bronze, however it comes with the added benefit of 2 PID and 2 On/Off Controllers.
Gold Model: This model would be well suited to medium applications with more features including 4 PID controllers, 4 On/Off Controllers as well as having full PLC capability.
Some of the benefits of the Hawk – Eye 800 include:
Reports are produced and backed up automatically every day.
Any user or person who needs automatic reporting, can have it sent to them via Email.
Instant SMS or Email notification of Alarms, which increases user's time efficiency.
Immediate recordings of alarm notification actions can be made.
Thorough and full Control, Monitoring and Alarming in the Hawk – Eye 800 Series.
The ability to have specified reporting makes it easy for the users.
Recording data is effortless thanks to the 4GB memory.
It comes with an uninterruptible power supply, which means that in the event of a power failure, the Hawk – Eye 800 will keep running for at least 2 hours.
Onsite and remote login access allows the user to be more efficient which saves time and money.
The case is IP65 rated, which means it can be mounted anywhere as it is dust and shower-proof.
The Hawk – Eye 800 is able to be made to specific needs which makes it cost effective.
There are numerous applications that the Hawk – Eye 800 Series are suitable for. These include but are not limited to:
Able to automatically update the user on cool room and freezer door conditions in addition to being able to regularly monitor freezers, cool-rooms and food serving/sanitising temperatures.
Able to accumulate large amounts of data attributable to the storage size which can be accessed at any time to be displayed/ converted useful information, such as generating graphs.
Control a thermal expansion valve using the gas superheat valve derived from the actual temperature and the pressure vs saturated temperature graphs for the refrigerant gas.
Able to safely carry out a shutdown in the event of a detectable gas leak.
Manage variable speed drives which in turn decreases energy consumption of the compressor and evaporator.
The use of the PID controllers and PLC logic blocks, allows the dosing pumps to be managed.

If you would like more information, please contact us. Alternatively, you can phone us on 1300 737 976.