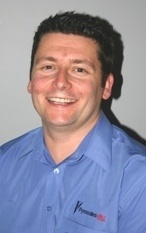 Mike Maciejowski is our Sales Engineer based out of the Melbourne office.
Mike spends most of his time on the road visiting customers. With a background in heating elements and electronics, Mike's skills enable him to troubleshoot and solve problems for our customers.
Mike has been working with Fibremakers in Bayswater North to introduce new modern equipment including RKC Ramp/Soak controllers to improve functionality and reduce material losses.
Its not all work and no play, in his spare time Mike enjoys hang gliding at world renowned Bright in Victoria.